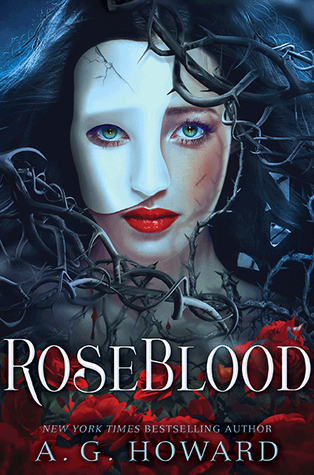 In this modern day spin on Leroux's gothic tale of unrequited love turned to madness, seventeen-year-old Rune Germain has a mysterious affliction linked to her operatic talent, and a horrifying mistake she's trying to hide. Hoping creative direction will help her, Rune's mother sends her to a French arts conservatory for her senior year, located in an opera house rumored to have ties to The Phantom of the Opera.
At RoseBlood, Rune secretly befriends the masked Thorn—an elusive violinist who not only guides her musical transformation through dreams that seem more real than reality itself, but somehow knows who she is behind her own masks. As the two discover an otherworldly connection and a soul-deep romance blossoms, Thorn's dark agenda comes to light and he's forced to make a deadly choice: lead Rune to her destruction, or face the wrath of the phantom who has haunted the opera house for a century, and is the only father he's ever known.
I was in love with the story of the Phantom of the Opera since the movie 2004. Gerard Butler made me fall in love with the ill-fated Phantom. I fantasized about a story where the Phantom gets his happily ever after.
Then, years later I got my very first OwlCrate box with this special read inside and other goodies personally from the author. I was so in love with the Alice in Wonderland series, that I absolutely fell in love at first sight and touch. It was never a question whether this book will be a favorite one.
The story is about a girl named Rune. Rune has a special skill: she can sing any opera with the voice of an angel. But it's a curse at the same time. There are shadows and ghosts in her past, present and future who are following her every step. So, when she has to travel to Roseblood to Paris in hopes of learning to control her so-called stage fright, she is understandably not happy. There she learns the truth about herself, meets this strange boy who looks like the Phantom himself…. and learns to love and use her voice.
I was enchanted by the book. It's so precious to me, it got a VIP spot on my shelf. If you love the Phantom of the Opera than this is a must-read for you. Believe me, this will blow you away.
---
A.G. Howard
#1 New York Times and International bestselling Author of Gothic / Fantasy & Paranormal tales. Mystical & romantic with a side of horror. YA, NA, and Literary Romance. Repped by Jenny Bent.
A.G. was inspired to write the Splintered Series, her tribute to Carroll's Wonderland, while working at a school library. Her pastimes are reading, rollerblading, gardening, and family vacations which often include impromptu side trips to 18th century graveyards or condemned schoolhouses to appease her overactive muse.
 Also, be sure to drop by herTwitter or Facebook Author Page and say "Hi." She's always up for meeting new friends!