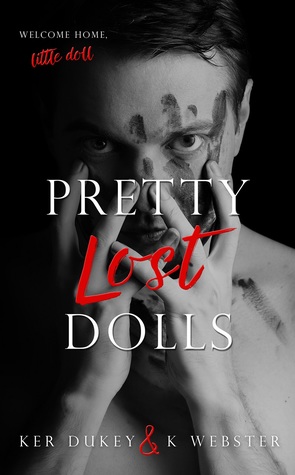 Benny got his dolly back, back, back
But his dolly was very bad, bad, bad.
His dollies cry, cry, cry
But he doesn't give a fuck, fuck, fuck…
Blurb:
Benny had a dolly who was sick, sick, sick.
Just like him, his dolly needed darkness as a fix, fix, fix.
So they tormented and hunted and played tricks, tricks, tricks.
Together their sins a lethal mix, mix, mix.
Until Benny missed his dolly who was lost, lost, lost.
He needed to find her and love her at any cost, cost, cost.
Not wanting him and his dolly to be alone, lone, lone.
He made plans to bring his dirty dolly, home, home, home.
Have you ever touched another's soul with the essence of your own, breathed them in so they become apart of you?
I have.
Finally starting to live, feel and fall in love, amongst all the chaos surrounding me.
Dropping my guard and letting another into my heart.
I left my soul open.
I left my heart open.
I left the door open.
And he stole me.
Dillon…I'm sorry.
Benny got what he wanted. Stole his dolly back. But this is not his broken, undefiant girl anymore. She learned to bite and fight. But Benny only wants to love her. Why does she fight?
What if you found a way out from hell? You escaped. Put back all your broken pieces. Maybe found true love. But then all is lost when a psycho from your past comes back for you. You are there again. And your life seems like a dream, your present is the nightmare you are living.
Jade is back with Benny. Surviving is all she wants, then saving her ex-lover, Bo, and her maddened sister. Benny has his reason too why he became the monster he is. And now we learn it all. Up until this book we saw the story through Jade's eyes. Now we can see it all, putting together the missing puzzle pieces and understand everything. This book is no less graphic and brutal than the first one. The story is well written, sucks you in and steals you too from this world. Try to survive the nightmare.
I sooo want to see this as a movie. And the ending? Oh, well, it was super creepy. I just… felt it screamed for an epilogue or another book/novel. I so want to read from the ladies again. I want to congratulate them for this little gem hiding on my kindle. Brava, ladies, Brava. I found another favorite duet.

---
About K Webster:
K Webster is the author of dozens of romance books in many different genres including contemporary romance, historical romance, paranormal romance, and erotic romance. When not spending time with her husband of twelve years and two adorable children, she's active on social media connecting with her readers.
Her other passions besides writing include reading and graphic design. K can always be found in front of her computer chasing her next idea and taking action. She looks forward to the day when she will see one of her titles on the big screen.
You can easily find K Webster on Facebook, Twitter, Instagram, Pinterest, and Goodreads!
About Ker Dukey:
My books all tend to be darker romance, edge of you seat, angst filled reads. My advice to my readers when starting one of my titles…prepare for the unexpected.
I have always had a passion for storytelling, whether it be through lyrics or bed time stories with my sisters growing up. We also used to put on performances by acting out stories. I wanted to become an actress from an early age so I could live out many roles but unfortunately I learned early on that my mind was too active…(I would end up wanting to change the script)
I would watch films or TV shows and think of ways they could have improved the story if they took another direction so I thought it best that I tell my own.
My mum would always have a book in her hand when I was young and passed on her love for reading, inspiring me to venture into writing my own. I tend to have a darker edge to my writing. Not all love stories are made from light; some are created in darkness but are just as powerful and worth telling.
When I'm not lost in the world of characters I love spending time with my family. I'm a mum and that comes first in my life but when I do get down time I love attending music concerts or reading events with my younger sister.
Come find me on facebook where i love interacting with my readers.
Email me here:
kerryduke34@gmail.com
PA to Ker Dukey;
Terrie Arasin
Email
terriesin@gmail.com